Featured Post Widget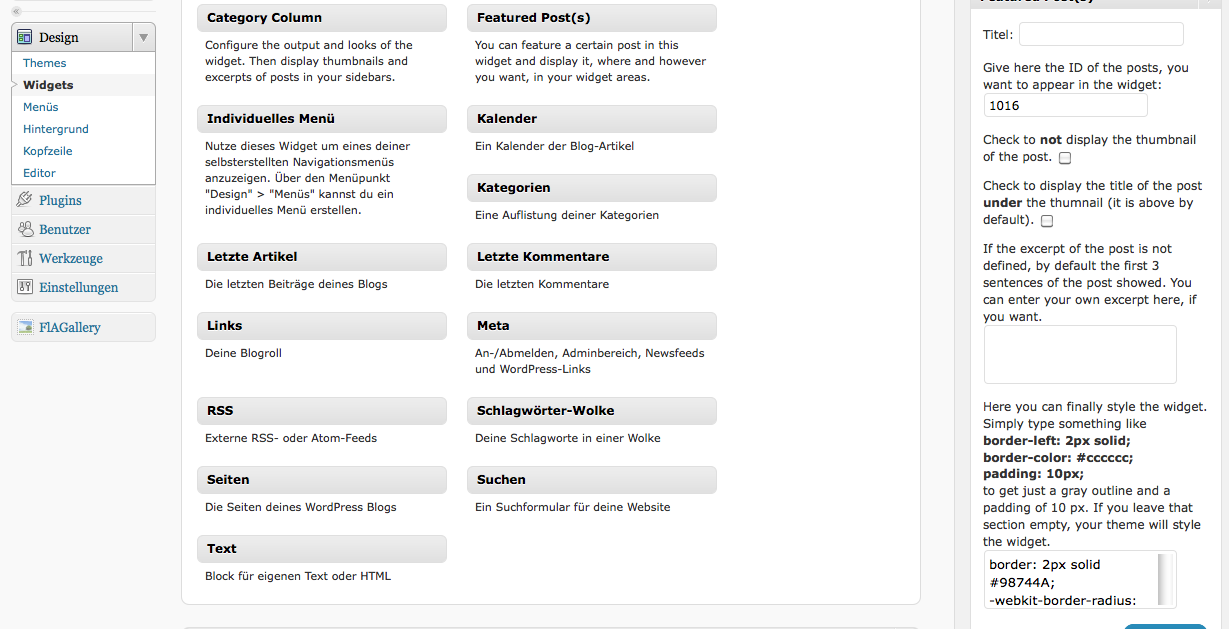 The Plugin
With the Featured Post Widget you can put a certain post to the focus, by displaying it in one of your widget areas. You can decide, whether or not to display the post thumbnail and whether the post title is on top or under that thumbnail. Style your widget in a different way to give it even more exposure.
Select the post to be displayed simply by choosing it from a drop-down menu.
History
We needed something to feature certain posts in the widget area of the theme, we are using. This is the result. With later versions, we added some languages and made the plugin more accurate. Now it will display also short-codes if the content is chosen instead of an excerpt.
Current Version
The current version is 4.1 and has now a Dutch and a German translation as well. You can avoid dubble content by giving a backup post, that shows, when the main post in the widget is on a single post page. You can define a 'read more' link for the featured post, if needing one. From on this version, you choose the post and the backup post from a drop down menu and if you forget that, a random post will show up. With the time the Featured Post Widget became more flexible and you can now choose where the thumbnail is located regarding the text (left, right, above). You have a possibility to display the post date as well, if wanting to and the code has been completely overhauled.
Since version 3.2 we are building up the A5 Plugin Framework to make it more easy to either build new plugins according to customers needs or to make existing plugins extendable in faster time. Because we are starting to have too many plugins with too many support questions and have to build custom solutions for our customers as well, we had to give up the Dutch translation.
Change Log
4.1 WP 4.3 ready. New framework
4.0 WP 4.1 ready. New framework
3.9.3 Mistake in image class fixed
3.9.2 Interference with WordPress Page Widgets eliminated
3.9.1 small bugfix
3.9 DSS compressible; bugfix
3.8.1 Small bugfix
3.8 Code correction
3.7 All 'Devided by Zero' errors should be eliminated
3.6 Improvement of image recognition, more flexible
3.5 code streamlined and options added
3.4.1 small bugfix
3.4 all possible errors that could cause the image to not resize are fixed some small features added (possibility to give a post ID, order of the headline, date, excerpt etc.)
3.3 Possibility to align the excerpt and the thumbnail added; you can display the post date as well, if wanting to
3.2 Complete overhaul of the code in accordance to start building the A5 Plugin Framework
3.1 More accurate auto excerpt and thumbnails are working with galleries as well
3.0 Some streamlining done, more fool proof.
2.1 Minor bug fix, showing the excerpt.
2.0 The widget now supports a customizable 'read more' link.
1.9 Trying to get expandable textareas work.
1.8.2 Bug Fix with backup post; plugin works now also with slugs.
1.8.1 Small bug fix with the backup post.
1.8 A second post can now be defined as a backup, that will show up, if the widget is showing on a single post page, showing the featured post. Just to avoid doublets.
1.7 Small changes in the handling that provide more accurate working.
1.6 Dutch translation added.
1.5 German translation added.
1.0 Initial release
Installation
To install the Featured Post Widget Plugin simply download it here, unzip the file and upload the folder named "post-feature-widget" into the plugin folder of your blog; this will usually be the '/wp-content/plugins' folder.
Once you have done that, simply activate "Featured Post Widget" in your plugin panel and customize the instances of your widgets, when you place them into your widget areas.
Screenshots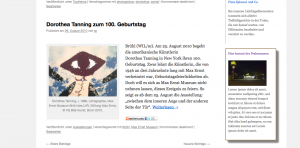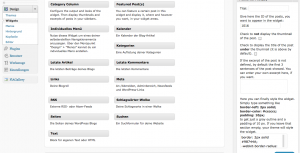 [aep_ignore_tag]
Donation
If you use the plugin and like it, we appreciate a donation. If you find the plugin useful and like it very much, we appreciate your feedback even more.
[/aep_ignore_tag]