Recent Post Widget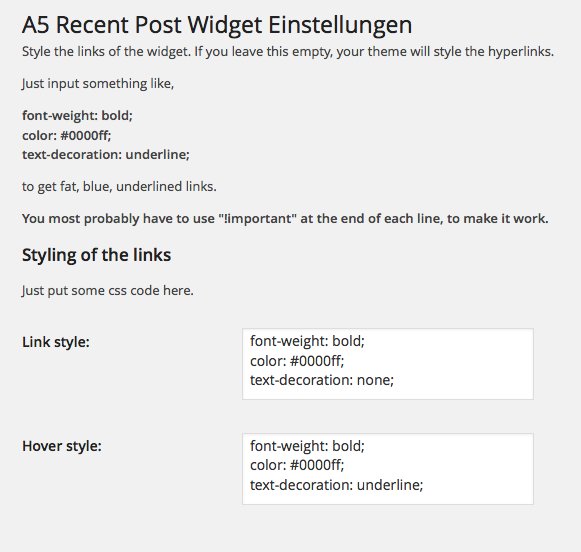 The Plugin
With the A5 Recent Post Widget you can put the latest post in the focus, by displaying it in one of your widget areas. You can decide, whether or not to display the post thumbnail and whether the post title is on top or under that thumbnail. Style your widget in a different way to give it even more exposure.
History
The widget was written on demand and has evolved now to something bigger and better. So, we decided to release version 2.0 to the wild.
Current Version
The current version is 2.1 and has German translation as well. You can define a 'read more' link for the featured post, if needing one. With the time the Recent Post Widget became more flexible and you can now choose where the thumbnail is located regarding the text (left, right, above). You have a possibility to display the post date as well, if wanting to and the code has been completely overhauled.
Change Log
2.1 Possibility to style the Widget Class added, framework added
2.0 Release to the wild
1.0 Initial release
Installation
To install the Recent Post Widget Plugin simply download it here, unzip the file and upload the folder named "a5-recent-posts" into the plugin folder of your blog; this will usually be the '/wp-content/plugins' folder.
Once you have done that, simply activate "A5 Recent Post Widget" in your plugin panel and customize the instances of your widgets, when you place them into your widget areas or just style the links in the plugin's settings page
Screenshots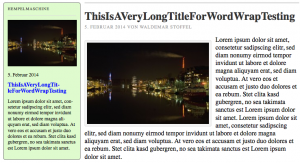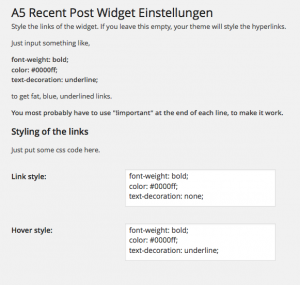 [aep_ignore_tag]
Donation
If you use the plugin and like it, we appreciate a donation. If you find the plugin useful and like it very much, we appreciate your feedback even more.
[/aep_ignore_tag]