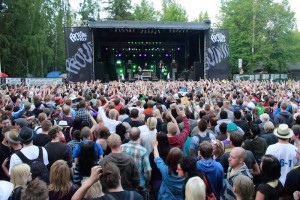 Seinajoki (sc). Namen wie The Sounds, Volbeat, Wolfmother, Michael Monroe, Jätkäjätkät, Rubik, Jenni Vartiainen und System of a Down zierten, neben zahlreichen anderen, den Lineup von Finnlands alljährlichem Opener der Festival Saison. Damit kann dem Erfolg des Spektakels nichts mehr im Weg stehen, möchte man meinen, und so war es auch.
Spätestens seit ihrem fulminanten Auftritt bei Ruisrock 2009 ist die schwedische Gruppe the Sounds nicht nur nicht mehr von finnischen Lineups wegzudenken, sondern beinahe schon ein Erfolgsgarant für das jeweilige Festival wenn es denn gelingt, sie für einen Gig zu buchen.
Volbeat ergeht es ähnlich. Von Veranstaltern häufig eingestuft als "Elvis Metal" (was auch immer das sein mag) machen die vier aus Kopenhagen einfach guten, druckvollen, harten Rock und haben sich in die Herzen der finnischen Festivalgänger gespielt.
Die Krönung von Provinssirock aber war natürlich System of a Down. Die Kalifornier haben ihren einzigen europäischen Auftritt hier absolviert und waren natürlich die absoluten Headliner.