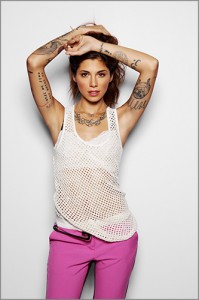 (WIL). Mit der Debüt-Single "Jar of Hearts" eroberte Christina vor knapp zwei Jahren die deutschen Charts (#5), gefolgt vom Album "lovestrong" (Platz 8). Nun legt die Sängerin aus Philadelphia erneut eine wunderschöne Ballade vor.
Die neue Single "Human" von Christina Perri erscheint digital am 21.02.  In dem bewegenden Song brilliert die Sängerin erneut mit großen Gefühlen, schonungsloser Ehrlichkeit und einer starken Stimme.
Vor wenigen Tagen feierte das Musikvideo zu "Human" Premiere, dessen Bilder der Schönheit des Songs in nichts nachstehen. Hier gibt es den Clip zu sehen.
Das neue Album "Head or Heart" von Christina Perri erscheint am 07.03. Es wurde von Martin Johnson (u.a. Avril Lavigne, Jason Derulo), Jake Gosling (u.a.Ed Sheeran, One Direction), John Hill (u.a. P!nk, Mayer Hawthorne, Santigold) und Butch Walker (u.a. Taylor Swift, Fall Out Boy, Panic! At The Disco) produziert, für das Mixing zeichnet sich Grammy-Gewinner Manny Marroquin (u.a. Kanye West, John Legend, Alicia Keys) verantwortlich.