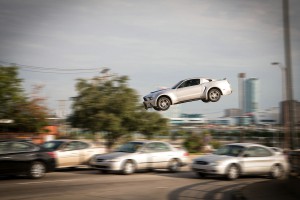 (WIL). NEED FOR SPEED in 3D ist die actiongeladene Rückkehr zu den großen Asphalt-Kultstreifen der 60er und 70er Jahre. In einer rasanten Verfolgungsjagd quer durch die USA treibt der Film ab dem 20. März 2014 Aaron Paul ("Breaking Bad") und Dominic Cooper ("Captain America: The First Avenger") über die amerikanischen Highways. Nicht nur für Motorfans und Autoschrauber ein absolutes Kino-Muss im neuen Jahr!
Inhalt: Tobey Marshall (Aaron Paul) ist Mechaniker, größter Muscle-Car-Fan und illegaler Street Racer. Als er sich mit dem reichen, arroganten Ex-NASCAR-Rennfahrer Dino Brewster (Dominic Cooper) zusammentut, um seine Werkstatt zu retten, beginnt der Ärger für Tobey: Dino hängt ihm einen Mord an, den er gar nicht begangen hat. Während Tobey für ein paar Jahre ins Gefängnis wandert, nutzt Dino die Gunst der Stunde und expandiert sein Geschäft. Wieder in Freiheit startet Tobey einen erbarmungslosen Rachefeldzug gegen seinen ehemaligen Partner. Als dieser von Tobeys Plan Wind bekommt, setzt er ein hohes Kopfgeld auf ihn aus. Von nun an liefert sich Tobey nicht nur mit der Polizei eine schonungslose Verfolgungsjagd quer durch die USA. Ein Rennen auf Leben und Tod beginnt…
Das Action-Spektakel basiert auf dem sensationell erfolgreichen EA™-Videospiel-Franchise "Need for Speed", welches sich bis heute über 140 Millionen Mal verkaufte. Mit nie gesehenen Stunts und rasanter Geschwindigkeit bringt Regisseur Scott Waugh ("Act of Valor") den Herzschlag der Zuschauer garantiert auf Touren. Dank einer exquisiten Auswahl coolster und PS-stärkster Rennwagen wie dem Saleen S7, McLaren P1, Lamborghini Sesto Elemento, GTA Spano, Bugatti Veyron und Koenigsegg Agera R sowie natürlich dem Kult-Auto Shelby Ford Mustang lassen Aaron Paul ("Breaking Bad") und Dominic Cooper ("Captain America: The First Avenger", "Mamma Mia!") als rivalisierende Vollblutfahrer den Asphalt brennen. An ihrer Seite sorgen Imogen Poots ("Fright Night", "Jane Eyre"), Ramon Rodriguez ("Transformers – Die Rache"), Dakota Johnson ("21 Jump Street") und der Rapper Scott Mescudi (aka Kid Cudi) für den richtigen Drive.
Mit: Aaron Paul, Dominic Cooper, Imogen Poots, Ramon Rodriguez, Michael Keaton
Executive Producer: Stuart Besser, Scott Waugh, Max Leitman, Frank Gibeau, Patrick Soderlund, Tim Moore
Produzenten: John Gatins, Pat O'Brien, Mark Sourian
Regie: Scott Waugh
Kinostart ist am  20. März 2014.