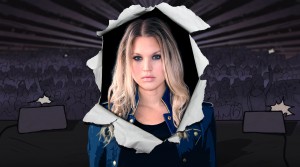 (WIL). Endlich sagt es mal jemand: "I am not made for working overtime and you know, don't even like the 9 to 5", stellt Ace Wilder fest. Viel besser: "Busy Doin' Nothing"! Mit dem gleichnamigen Song regiert die in Florida aufgewachsene Schwedin derzeit die heimischen Charts:
"Busy Doin' Nothing" ist auf Platz 1 der schwedischen Charts und erscheint bei uns am 20.06. In dem Song wechseln sich weiche Melodien und krachende Dance-Beats auf gelungene Weise ab, verbunden durch Ace Wilders starke Stimme und den humorvollen Songtext.
Das Musikvideo zu "Busy Doin' Nothing" gibt es hier zu sehen.
Ace Wilder schreibt auch erfolgreich Songs für andere Künstler, u.a. deutsche Top-10-Hits für Stephanie Heinzmann. Jüngst nahm die schöne 31-Jährige zudem am schwedischen ESC-Vorentscheid teil und kam ins Halbfinale. Das Debütalbum ist ebenfalls in Arbeit.