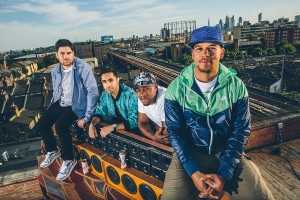 (WIL). Mit ihrem Album "Home" eroberten Rudimental 2013 die #1 der UK-Charts und lieferten u.a. zwei #1-Singles ab. Kaum verwunderlich also, dass die Kombo als Favorit für die begehrten BRIT Awards ins Rennen geht:
Rudimental sind bei den BRIT Awards gleich dreimal nominiert: "British Album of the Year", "British Group" und "British Single". Die BRIT Awards werden am 19. Februar in London vergeben.
Morgen (17.01.) erscheint die neue Single "Free" von Rudimental. Mit auf dem Song vertreten ist UK-Sängerin Emeli Sandé. Kürzlich performten Rudimental den Song gemeinsam mit Emeli Sandé bei Jools Holland, zu sehen hier.
Gefeiert sind auch die Live-Shows von Rudimental, bei denen das Quartett um weitere Instrumentalisten und Vokalisten erweitert wird. Am 08.02. legt das Kollektiv einen Stopp in Hamburg (Übel & Gefährlich) ein.