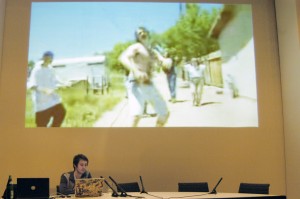 Ein interessantes Projekt vom Erfinder des Techno Viking
Karlsruhe/Berlin (sc). Unter dem Titel "Kneecam no.1" wurde vom Künstler Matthias Fritsch 2000 auf der Fuckparade, einer Gegenveranstaltung zur Loveparade, ein vierminütiges Experimentalvideo aufgenommen. Unter dem Namen "TechnoViking" hat es sieben Jahre nach seiner Entstehung einen unglaublichen Bekanntheitsgrad erreicht. Nachdem Fritsch seine Kneecam 2006 auf Youtube veröffentlichte, wurde es 2007 vom amerikanischen Videoportal Break.com entdeckt und unter seinem neuen Titel Techno Viking erhielt es innerhalb der ersten Tage über 2 Millionen Klicks.
Inzwischen gibt es auf Youtube mehr als 700 Videoreaktionen und der Techno Viking wurde vielfach nachinszeniert.
Für sein Projekt "Music from the Masses" produziert Matthias Fritsch Clips in der Länge von durchschnittlichen Musikvideos. Die Stummfilme werden auf www.subrealic.de zum Download bereitgestellt und können von Musikern und Komponisten aus der ganzen Welt vertont werden. Bisher sind schon eine Vielzahl in Stil, Atmosphäre und Genre differierender Arbeiten entstanden.
"Music from the Masses" versteht sich als "open edition", der immer neue Varianten hinzugefügt werden können. Laut Fritsch entspricht dieses generische Modell der Materialbearbeitung der "Youtube-Realität", in der es immer wieder zu Veränderungen von platziertem Material kommt.